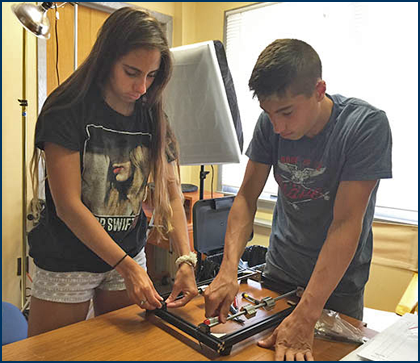 My name is Joya Mitrano. I completed a work study program at Techdesigno the summer of 2015. I took AP Physics and Honor Calculus at Villa Walsh Academy, my High School, in Morristown, NJ. Those classes sparked my interest in engineering. I will begin studying for my bachelors degree for mechanical engineering in the fall at the University of Delaware.
I have experimented with SolidWorks. SolidWorks is a leading 3D modeling software program that functions as a 3D virtual parametric prototyping system. I also was on the assembly team for building a 3D printer machine.
Other activities I have engaged in are:
- Learned to build and edit a joomla website.
- Learned Javascript. I believe it is a easy-to-use coding programming
that I can apply to my joomla website.
- Created an animation for my joomla website.
- Integrated videos and pictures into my joomla website.
The programs I learned through this work study program will give me some experience with different programming languages that I might use later on in my major in college.
Favorite Quote
"The more that you read, the more things you will know. The more that you learn, the more places you'll go." - Dr. Seuss
Joya's Animation