Good News! Paperless Solutions launches their new mobile-friendly website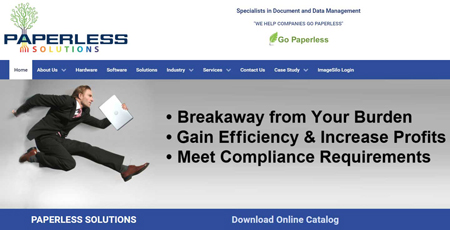 Congratulations to our client, Paperless Solutions LLC. They now have a new mobile-friendly and responsive designed website. Techdesigno has redesigned and redeveloped their new CMS responsive website. This new website design reflects their new brand essence. Our team optimized the written page content and their overall content strategy to offer more information about the business. Techdesigno's graphics designers worked on specific website images to communicate or explain ideas visually by using various graphic elements and tools. The web designers worked on web pages that are designed with a focus on simplicity, so that no extraneous information and functionality that might distract or confuse visitors. The Usability and User Experience, is very important to Techdesigno for making this website simple, user-friendly and easy to use. Our web developers know that customers' online behavior and provides insight into what works and what doesn't.
The website has responsive design intended for a great user experience from any device, whether desktop, tablet, or mobile. Techdesigno's SEO experts helped making enhancements to this website in order to improve its rankings in Google search and other search engines. Our digital content writers understand their audience and know their readers. Also, the graphic designers and web designers created a brand that fits the company, as well as, define it through their logo. Techdesigno's digital marketing strategy works on the Internet, on the web, on other digital media and technology to support modern marketing. The digital designers work on multimedia and graphics for this website and created and edited the concepts for layout of this website.
Companies all over the world are discovering the benefits to creating Paperless offices. Electronically stored documents are a new, secure, and effective way of improving the office. The real paper tiger that organizations should fear is document mismanagement and security issues. Paperless Worldwide solutions are here to help you with your document accessibility, security, easy storage, time saving and better customer services. They are Specialists in Document and Data Management. Click here to see the new website for Paperless Worldwide solution.
If your business also needs mobile-friendly, responsive website, click here to contact Techdesigno's website development team