Congratulations to Lisa Drummond on Receiving a Certificate of Appreciation from The West Orange Arts Council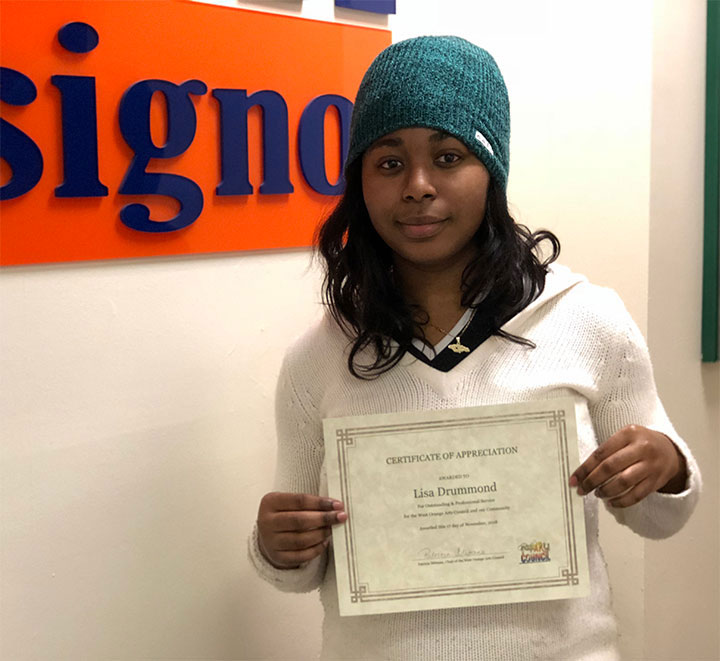 Congratulations to Lisa Drummond who received a Certificate of Appreciation from The West Orange Arts Council, a non-profit organization in West Orange, NJ. Lisa received an acknowledgment from the Board members as a show of appreciation for her outstanding and professional service dedicated in volunteering her time.
Lisa provided photographic services at a special event fundraiser and art show conducted at the West Orange Arts Center. Lisa used LED ring lighting and configured a photo booth app on an Apple tablet to capture event attendees as they entered onto the red carpet. Then, the photos were sent and delivered to recipients through social media platforms including Facebook & Instagram and texted to their mobile phones. This allows them to share it with their family and friends.
Lisa Drummond said, "I had the absolute pleasure of taking part in the festivities at the West Orange Arts center on November 9th, 2018. As a representative at Techdesigno, I enjoyed volunteering as the photographer for the night. It was a privilege to snap the honoree for the night, Emmy award winner, Mr. Kenneth Mandel. I had the opportunity to meet new and interesting people along with the chance to use new equipment to take amazing photos.

One of the equipment used was a LED ring lighting light source. This gear is a popular one on most social media platforms. It is commonly associated with the iPad tablet and allows portraits of individuals to be shared on their social networks."