Event Photography and Content Creation are Valuable for Your Website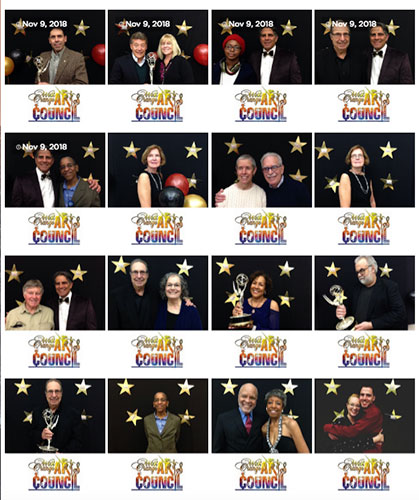 On November 9th of 2018, the West Orange Arts Council needed a photographer to document an important fundraiser event to be conducted at the Arts Center. They called on Techdesigno of West Orange, NJ to see if they could photograph the event. The event was the 3rd Anniversary Fundraiser to honor Ken Mandel. Ken Mandel is a West Orange Arts Council Board Member, Emmy Award winning filmmaker, creator and chair of the West Orange Film Society's and the West Orange Classic Film Festival for the past decade and a half. Ken Mandel has chaired the West Orange Classic Film Festival for over 13 years and was rewarded and recognized as the guest of honor at the Fundraiser. The West Orange Arts Council was delighted to honor Ken Mandel and Techdesigno was called to photograph this event at the West Orange Art Center.
The West Orange Arts Council Board met with the creative team at Techdesigno in West Orange NJ to discuss this project. Techdesigno not only agreed to do it, but they offered to do for free. So, they donated 100 percent of their time and effort to schedule, photograph, and share on social media to help publicize the event. Techdesigno in West Orange, NJ met with board members to discuss what types of shots were needed for the event.
Techdesigno in West Orange, NJ believes hiring a professional photographer for your next company event will show people what your company is all about. It is a great form of advertising.
Here are three (3) reasons to hire a professional photographer:
Professional photos at events can be used for internal purposes. Photographers who take pictures of your event understand the importance of photographing every detail. Company employees can reference photos from past events and display them on their company page.
Hiring a professional photographer for your next event will allow you to share your event photos with the public and can be used to advertise your company. For example, fundraisers are events that are held to generate financial support for a charity. These fundraisers and charity events show the world the good that you do, especially on social media.
Creating your Brand is vital to brand recognition. Photographs taken by a professional photographer are going to look professional and will help develop the brand of your company. They can also help build a brand for an annual event. For instance, if you hire a professional photographer to photograph your annual charity event, the photographer can help your event have a certain look to it or reflect a specific company image. This in turn can help raise money to grow your event each year.
Techdesigno's commitment at the West Orange Arts Council 3rd Annual Fundraiser was to ensure the photos captured the events most critical details. The Fundraiser event was Hollywood themed and included a photo booth. The fundraiser also included a silent auction, door prizes (original artwork and vintage movie posters) and Hollywood themed activities. Techdesigno in West Orange, NJ was thrilled to photograph the event!
So, next time you are need of a professional photographer for your company event, look no further than Techdesigno. Techdesigno captures all the special little moments that happened during the event. Techdesigno's photos will help showcase your event and engage your audience on social media. Event Photography is the way to go! Contact Techdesigno in West Orange, NJ today to photograph your next event!
Contact us for a free, no obligation professional photographer consultation.
Call 973-736-7973 or email us today!