Get a FREE Stunning WIX.com Website from Techdesigno.com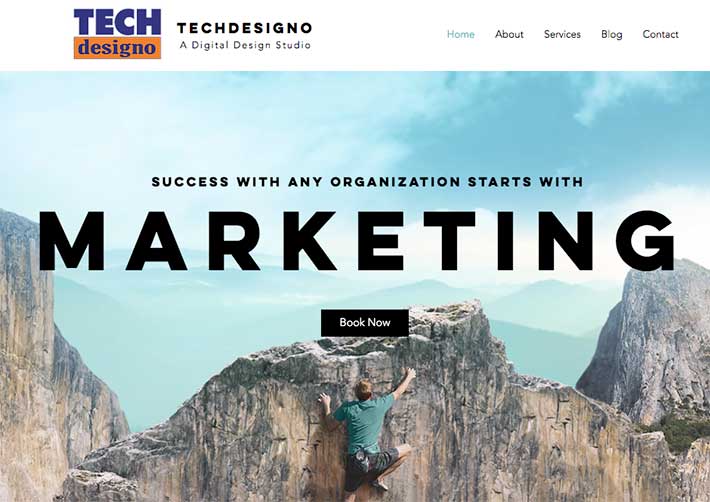 Most of us pretty much know that the cost of having a website built by a professional website developer could be quite expensive. However, If you are a small business and have a tight budget, WIX and Techdesigno will build your company a FREE or LOW-COST stunning website in no time. That's one of the biggest advantages of the WIX website development platform.
There are two ways you can get a FREE stunning WIX website. One way is by building the website yourself using the WIX "drag and drop" editor. Another way to get a FREE stunning WIX website is by having your professional website developed by Techdesigno. Techdesigno will build a custom Wix website and design it just for you and your business. Techdesigno has both FREE and inexpensive websites for small business owners or home-based businesses.
So, how do these various FREE or low-cost websites work? Let's first discuss the advantageous of a WIX website, the result is always a stunning website when done right!
The TOP Advantages of a WIX website:
It's FREE! With some limitations and ads, of course.
It's easy to build a site with the WIX drag and drop editor.
You can pick from a wide range of pre-designed templates.
You don't need to write a line of code for basic websites.
There are hundreds of free & paid apps to add functionality.
You can optimize your site for search through SEO.
Wix did have only one notable criticism. When people first starting working with the WIX editor interface, they mentioned that it can feel a little overwhelming. There are so many choices with WiX templates, features and customization options that it's sometimes hard to make a choice. But, this could be looked at as a good thing because it allows for more flexibility when designing and developing your website.
Techdesigno's creative website development team have become proficient in the top CMS (Content Management Systems) website development platforms. These include the following:
WordPress
Joomla
WIX.com
shopify.com
Squarespace.com
Adobe Dreamweaver
Techdesigno is now an official WIX Agency Partner. What this means is not only do we have seasoned and experienced web professionals, who understand, fundamentally, how web technology works with various platforms when developing websites, like knowing HTML5, CSS3, Javascript. And, now and we are also well-acquainted with the WIX website development platform. We can even hard-code HTML and Javascript coding for WIX websites, if necessary. Techdesigno has over 24 years of experience in HTML and web design. Techdesigno also has a special relationship through a partnership with WIX. WIX has an onboarding process and specialized training program to provide Techdesigno's creative web design team of web designers with in-depth information on what to know and how to create a professional website with the WIX editor and WIX.com web development platform.
Techdesigno's creative team of web designers can build you a WIX.com business website from scratch or assist you with the one you have already started and need help with it. Founder and Director of Techdesigno, John Mitrano, said, "We are happy to be a WIX.com Agency Partner and to have come onboard with one of the best CMS website development platforms in the world. They are the fastest growing web design, drag and drop, website building services in the cloud. Our first WIX client was Kimberly Grant, a woman-owned business where she started her own WIX site but wanted professional assistance. She hit some roadblocks when attempting to complete her WIX website. Techdesigno was delighted to have assisted her in accomplishing a stunning WIX.com website."
Scott Glace, Wix's Agency Relations Manager said, "Techdesigno is now a part of the Wix team! As an Agency Partner, I work directly with the Techdesigno team, creating the best sites the internet has seen, all using Wix. I'm glad that the Techdesigno website development team is now an official Wix Agency Partner. They have quickly adopted the Wix Editor and I'm extremely happy to hear that they acquired their first Wix client job in only one month after signing up as a Wix Agency Partner. We will continue to provide them with high-level support whenever they need it and look forward to a continued relationship of mutual success."
Want a stunning WIX website with a sleek, professional look? Let Techdesigno build you a professional WIX website. Contact us to learn how to get a FREE or LOW-COST stunning WIX website from Techdesigno. Call us at 973-736-7973 or email us today!