Happy Valentines Day from Techdesigno!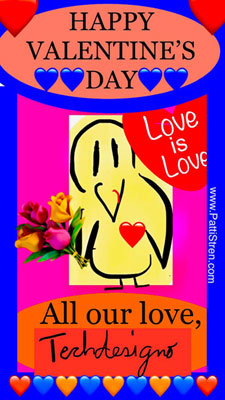 It's that time again to think about that special person or persons that you love. Make this Valentine's Day extra wonderful this year. Please enjoy these Valentine's Day quotes in the spirit of love. Techdesigno knows that when it comes to Valentine's Day that it's a day to celebrate love and to make sure that you enjoy a fantastic day.
"We're all a little weird, and life's a little weird. And when we find someone whose weirdness is compatible with ours, we join up with them and fall in mutual weirdness and call it love." — Dr. Seuss
"There is no remedy for love but to love more." — Henry David Thoreau
Techdesigno wishes all our clients a Happy Valentine's Day!
Artwork courtesy of PattiStren.com