Techdesigno Is Happy to be Business Partners with Staples of West Orange, NJ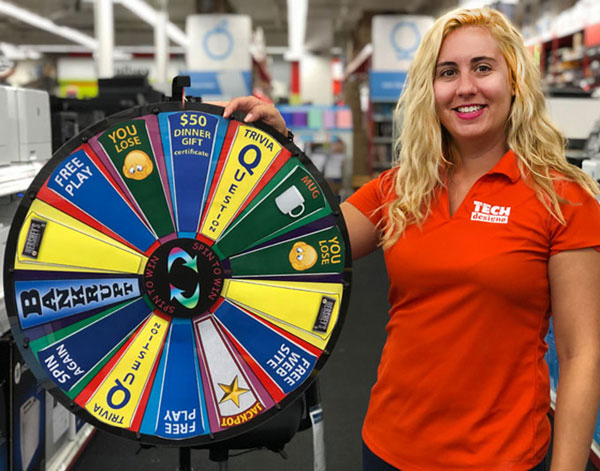 When Techdesigno had an event at Staples in West Orange, NJ, they brought a little fun game with them to show the customers what they do. And, in this game, the customers could win for example a $50 Gift Certificate, answer a Trivia Question, get a Mug, Hershey Chocolate bar, a Free website and even win the Jackpot. And, by doing this we want to be able to help our customers that live in the area of Millburn, NJ and Essex County, NJ area to learn more about what can be done to improve online visibility and increase business.
We believe that here at Techdesigno in West Orange, NJ, it's our job to help our clients get a great working web site or to do Online Marketing and even SEO. We also do conduct content creation such as blogging, article writing, social media posts, videography and photography to give your websites that successful look that it needs to boost engagement and getting more customers online.
Now, let's talk more about Techdesigno:
Well to start, Techdesigno is a digital design company that was founded in 1995 by its owner John Mitrano. By being in West Orange, NJ at our new location at 59 Main Street, we love to specialize by working one-on-one with every small business owner to be able to help them to adapt and thereby grow by enhancing their online presence. We love how our clients have come to recognize us as a one-stop-shop for all their graphic design and technological needs, as we here at Techdesigno offer a full range of graphic design for both web and print design including:
• Web Development
• Design
• Graphic Design
• Photography

• SEO Services
• Content
• Social Media Marketing
Techdesigno's philosophy is "never stop improving and learning so we can always offer the latest, most efficient solutions to our clients. We believe that establishing a close relationship with our customers is the key principle in providing the best service. We are always a phone call or email away (even after hours) and pride ourselves on our reliability."
"John Mitrano is the go to person for your website, marketing and development needs. He has helped me build a beautiful website. I get tons of compliments on my website, and it has helped me draw in new business. Especially the way he has organized my website. I highly suggest him for your business. Not to mention he is especially creative and talented when it comes to blogging and Marketing, I have used his services other than my website such as SEO's and blogging. Thanks to John and Techdesigno Team!!!"
Techdesigno in West Orange, NJ is always happy to work with Staples again and even to continue to provide services for small businesses in Millburn, NJ and Essex County, NJ area to help them adapt and grow all their online web presence. And, that doesn't matter if it's a web design, search engine optimization (SEO), online marketing or video and photo services the graphic designers at Techdesigno will deliver. So, Techdesigno in West Orange, NJ is excited to have the next event Staples. So, give us a call in West Orange, NJ at 973-736-7973 or email us.