Techdesigno in West Orange, NJ Donates Marketing Design Services to Help Support A Local Non-Profit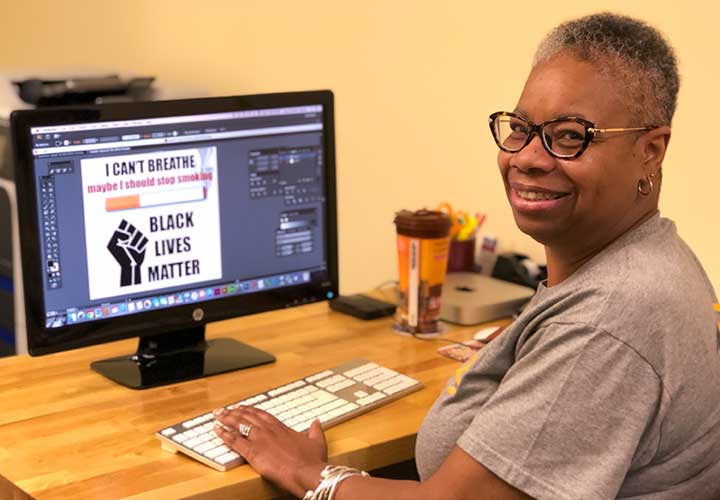 It was a "match" made in heaven. Not the kind of match that lights cigarettes, but the kind that takes the talents and passions of each participant and combines them so they achieve more than they could by working individually.
That's exactly what happened when John Mitrano, Owner and Founder of Techdesigno, first met Jihadah Sharif, CEO of Creative Spirits of the State of New Jersey. Creative Spirits, a nonprofit organization that has several decades of experience educating New Jersey's African American community about the dangers of tobacco, wanted to expand and build their digital online marketing footprint. Mitrano knew when he saw Sharif's compassion and commitment, that he could help her.
Creative Spirits' mission is to spread the important message about the consequences of tobacco dependency. Their engaging and innovative workshops teach New Jersey residents, especially those in Essex County, how to say no to tobacco products and say yes to positive and creative community building endeavors.
Creative Spirits also reminds its audience that the money that is spent on cigarettes and other tobacco products could be better spent providing much needed housing, education and social programs for underserved communities. Educators, parents, clergy, medical professionals and past smokers assist Creative Spirits in spreading the important message about the consequences of tobacco dependency.
While Techdesigno offers online marketing through web design, search engine optimization (SEO), social media and content marketing, it was their graphic design services that Mitrano was sure to be of immediate use to Creative Spirits. Sharif knew that banners and posters professionally designed with visual impact would immediately support their mission and was delighted to accept the support.
"I knew I wanted Techdesigno to partner with Creative Spirits to bring even more awareness to tobacco dependence in our community, " states Mitrano." Techdesigno has always looked for ways to be of service in local community-building initiatives. This partnership was the perfect match.
Traci Moore, Techdesigno digital design specialist, was called in to execute the project from start to finish. Moore is excited to work on this project, as well. Living in East Orange for several years, Traci met Jihadah when she was a teenager. Like everyone who meets her, Traci was impressed with Jihadah's knowledge about tobacco dependency and her commitment to the neighborhood youth.
Traci also has a personal reason--she has herself quit smoking very recently. "I felt like this project was perfect for me at this time in my life as a way of confirming that I would be successful in my determination to quit smoking," Moore shares. "I'm glad to be working on a project that I know will make an impact in my life, as well as in my own family and in my community. I also love that I work for a company that looks for opportunities to partner with organizations like Creative Spirits, that wants to be part of the change in our communities."
As an online marketing and digital design agency, that has been located in West Orange, NJ, since 1995, John, Traci, and the Techdesigno team are always interested in supporting the community whenever possible where they live and work.
Techdesigno is constantly developing branding and online marketing materials through the creation of logo designs, business cards, Social Media, Facebook, Instagram, Google My Business Pages (GMB), Twitter, LinkedIn postings, and the like. Techdesigno aids in boosting traffic to your online entities with online marketing strategies such as search engine marketing (SEM), Search Engine Optimization (SEO) and keyword Google searches.
Email Techdesigno here to Get Digital Marketing Design Services for Your Organization