Web Accessibility Solutions Available for ADA & WCAG Compliance in West Orange, NJ & Essex County, NJ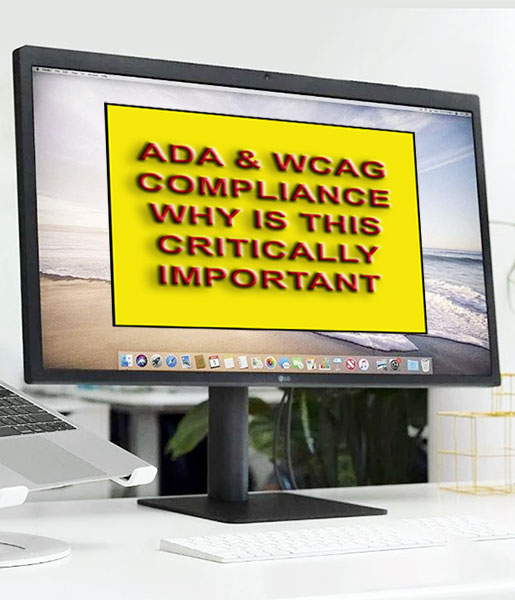 Imagine being visually impaired or worse, completely blind. You need to purchase something online at a website that you discovered through a search but only to find that the website does not allow for ADA accessibility for the blind or visually impaired. This means that the website has not been designed to be ADA website compliant (Americans with Disabilities Act). Therefore, you struggle and find it is impossible to navigate or use. You get frustrated and angry. And, you ultimately leave the website upon despair.

For those located in the West Orange, NJ and Essex County, NJ area that doesn't know what ADA references in this context, it means Americans with Disabilities Act. The Americans with Disabilities Act became law in 1990. It is a civil rights law that makes it illegal to discriminate against people with disabilities. And, this applies to all areas of public life. Traditional, it originally was related to job locations, employment, transportation, public places, and communications. And, nowadays, with the proliferation of the Internet and the World Wide Web, it now also includes websites.

You might ask what constitutes or defines an ADA person. An ADA individual is a person who has a physical or mental impairment that substantially limits one or more major life activities.

So, there are 2 concerns that business owners are having regarding this ADA website accessibility issue. First, it helps businesses get more customers if they can serve a larger audience of potential people. And, secondarily, it is a major concern of law suits.
According to a ValueWalk.com study, "the number of web accessibility lawsuits soared from 814 in 2017 to 2,258 in 2018 - an increase of over 177%, and one that's expected to continue." Read the full article here https://www.valuewalk.com/2019/08/ada-lawsuit-web-accessibility.

So, no matter what type of business you have, whether it is a large retail corporation or a mom and pop local store, or whether it is a virtual online store or a brick and mortar storefront, the truth is that all of these types of businesses are affected by website accessibility concerns, ADA lawsuits, and the ADA compliance of websites.

The concept of web accessibility and the need to have your website ADA Compliant is to follow the WCAG rules and guidelines. Compliance was not considered a great concern in the past. But, now it has become a serious consideration for website owners and online businesses to be ADA compliant and WCAG accommodating. WCAG compliance stands for Web Content Accessibility Guidelines, which are a series of ADA website rules and guidelines established and documented by the World-Wide Web Consortium that give website owners and developers guidance on what needs to be done if you wish to comply with these ADA Web Accessibility laws. And, these WCAG guidelines are constantly being updated, modified, and changed to better serve the public sector affected by ADA web accessibility.

John Mitrano, owner of Techdesigno said, "Honestly, I became away of the importance of ADA website compliance, ADA website accessibility, and the WCAG recommendations only after we had a number of our clients inquire with our company about whether we can access their websites and determine if they are ADA website compliant or not. We have now upgraded and retrofit a number of client websites to become ADA compliant. Our ADA Website Developers are also able to run a validity test to evaluate for ADA website accessibility."
Contact John Mitrano or Techdesigno by calling 973-736-7973 or email us here to learn more about ADA compliance for your website.