Techdesigno, Digital Marketing Agency, Announces Partnership with Staples Connect in West Orange, NJ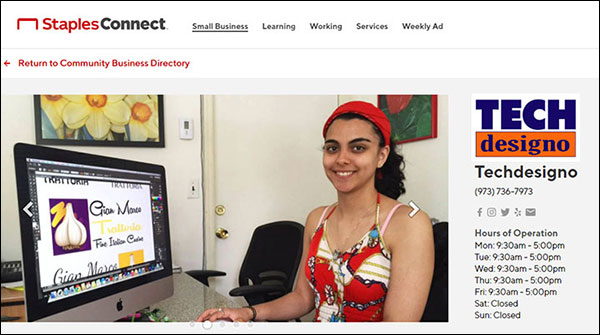 Techdesigno is very excited to join the Staples Connect community. As a partner we really feel Staples Connect has values that align with ours. Staples Connect has three main goals:
Inspire work and learn from home solutions.
Connect small businesses with local communities.
Provide same day access to products in-store and online.
These goals are selfless in nature and allow for great collaboration and growth between Staples, small businesses and their surrounding communities. There is something brewing at Staples Connect and we are fortunate to be at the forefront of something special. We are even more fortunate that they chose to work with Techdesigno.
At Techdesigno we have always been interested in finding the best way to reach our community and Staples Connect gives us that opportunity. In the past we have given tabletop presentations in the West Orange, NJ Staples location where we've answered a variety of website and online marketing questions. Staples Connect customers can now access Techdesigno through Staples without having to meet face to face at a tabletop event.
Staples Connect now gives the community a new space to access all of the outstanding services that Techdesigno has to offer.
Techdesigno offers many different web design and development services. All of our services can help you showcase your business and keep it up to date. A new website, website design, online ordering platform, mobile friendly website, email marketing campaign, website host, or domain name can all improve your business. You have access to each of these things through our great partnership with Staples Connect.
We also offer Search Engine Optimization (SEO) services through Staples Connect. SEO will help get your business to the top rankings on Google search results. SEO can be one of the most valuable web related service for your business.
If you don't have your own content, we can create it for you. We deliver SEO friendly content, logo design, postcard design, flyers, menus, photography services, or video production and we love helping our clients publish great content.
What should you do with content that Techdesigno created? Try using it for a new social media marketing campaign. Social Media is one of the best ways to help you connect with your customers.
You don't need to take our word on the quality of our services, just listen to our happy clients. "Techdesigno & team were extremely helpful to me when I was starting my business. They are professional and knowledgeable, but most importantly they are very patient with me. I will continue to work with Techdesigno as my business grows as well as new business ventures." Tammy loved the work we were fortunate enough to do for her business.
Techdesigno in West Orange, NJ is always happy to work with Staples and Staples Connect. We are even more excited to continue to help small businesses in the West Orange, NJ and Essex County, NJ area adapt and grow their online web presence. Whether it is web design, search engine optimization (SEO), online marketing or video and photography services the graphic designers at Techdesigno will deliver.
Email Techdesigno to find out how we can partner with you to increase your online presence.