Techdesigno Digital Design Agency Partners with West Orange Arts Council to Redesign Their Website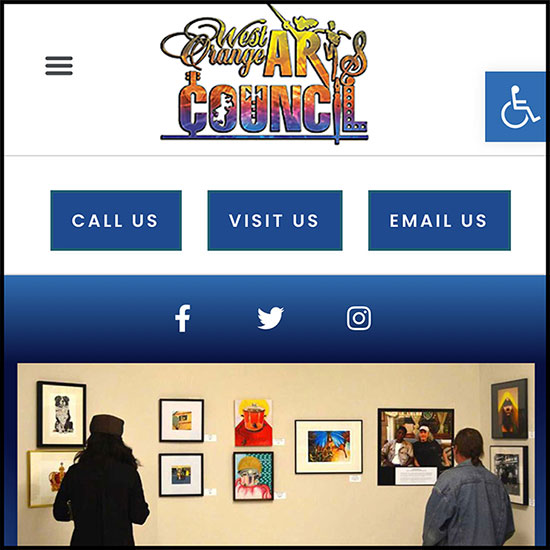 When the West Orange Arts Council (WOAC) wanted to redesign their website, they contacted Techdesigno, a West Orange digital design agency and online marketing company to assist them. After listening as the WOAC board explained what they were looking for, Techdesigno Owner, John Mitrano and Senior Web Designer, Rodrigo Flores, evaluated the original website's design and proposed a new design and additional functionality that would help the WOAC further their mission.
Both John and Rodrigo were excited about the project. John Mitrano said, "I was so pleased to hear that we were asked to redevelop the community web site for the West Orange Arts Council. They are a non-profit art organization and are doing such wonderful cultural and community art events in and around the Valley Arts District of West Orange, NJ. I especially enjoyed hearing this idea because I have always had an affinity with the creative arts field. But, more importantly, the web site requirements included the goal to consolidate a number of elements to be conducted all as backend functionality, all under one hood, so to speak. Such functionality included a members database, members signup, members payment gateway, Secure 256-bit encryption, SSL Certificate, ADA website compliant solution, Google's online calendar, and the ConstantContact ESP email signup integration. By accomplishing all of this consolidation in one place will help save the West Orange Arts Council much money along with the cancellation of redundant services that will no longer be needed. We were happy to see this project through and bring them the results they are seeking."
One of the main goals for the new website was to increase public awareness of West Orange, NJ and Essex County, NJ citizens to local performing, visual and literary arts. Their programs and workshops make many types of art available to the entire community.
The WOAC not only brings inspiring exhibits to our area, but features local artists like: Josephine Barreiro, Sarah Bass Aspe, Yuri Bisono, Carol Black-Lemon, Wendy Born, Syreeta Brooks, Marina Carreira, Patricia Croft, Antoinette Ellis-Williams, Maria Estrela ,Mary Fordham, Dino Gravato, Karen Goldberg, Patricia Hutchinson, Carol T. Jenkins, Lizette Louis, Cathleen McCoy Bristol, Queen Mother Imakhu, Barbara Motley, Frank Niccoletti, Amelia Panico, Davynte "Red" Pannell, Sundra Parker, John Piccoli, Dayana Poulard, Ron Powell, Martryce Roach, Gale Sasson, Ameerah Shabazz, Ella Silivanch, Timothy Simmons, Elaine Tassy, Sheila R. Thompson, Denise Toney and Kelly D. Villalba.. Found art, illustrations, oil, watercolor and acrylic paintings, sculpture, and even art created by West Orange High School students can be accessed via virtual tour on the new website. Artists can also use the website to inquire about exhibit opportunities. Visit their newly launched website for the West Orange Arts Council's here: https://woarts.org/
If you are interested in the creation of a new website, redeveloping an existing website, or learning how a website can assist in meeting your organization's goals, contact Techdesigno at 973-736-7973.