Livingston, NJ Deli Gets Website Redesign From Online Marketing Agency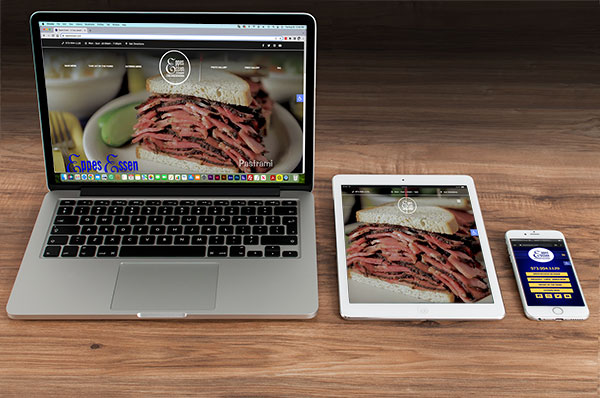 When Eppes Essen wanted to redesign their website, they contacted Techdesigno, a West Orange digital web design agency and online marketing company to assist them. Once we received the green light to start the project we brainstormed ideas on what the site would look like. Considering the fact that Eppes Essen was a Jewish Deli based in Livingston NJ, we envisioned an elegant website with an emphasis on a variety of foods being featured all across the site. The moment we discussed online marketing strategies for that idea, we set out to implement the new design.
One of the requests that the owner of Eppes Essen wanted us to fulfill is to keep the mobile version of the website similar to their previous website. This meant that the mobile site would navigate very similarly to a mobile application. Our aim was to abide by his request and also make improvements where applicable. One such improvement that was made is the ease of access to their Social Media channels. We designed their mobile site so that everything is easy to use and navigate. One of the important aspects of the mobile site that we wanted to keep in mind is the patrons that Eppes Essen typically serves. Since their customer base is typically on the older side, we used high-contrast colors to help those with sight difficulties.
When it came to designing the desktop website, as mentioned earlier we had a vision of an elegant site with an emphasis on a variety of foods being featured and showcased all across the website. To achieve this we made sure that one of the first things you see when arriving at the site is the delicious food being served at this establishment. We implemented a beautiful video in the background that auto-plays as you arrive at the site. Seeing this video playing in the background will instill hunger and give you an idea of the types of food that this restaurant serves. Additionally, each of the three (3) menus is easily accessible near the top of the site and isn't buried in nested menus. Scrolling down the page will help you understand more about Eppes Essen if you are a new customer. We provided many photos and videos of the food that they serve at Eppes Essen all across the website.
We also updated the new website for the integration of ADA (American Disabilities Act) compliance. Many sites don't have ADA compliance, and this is against the law. Not having ADA compliance could invoke a lawsuit. So having your website offer an accessible design and smooth user experience for all, you will notice an automatic boost in visitor retention. The boost in visitor retention is due to the design of the website being very simple to navigate. When creating a website that is ADA compliant, useability and ease of navigation are key. It's important to understand your audience and optimize all elements of your online business accordingly.
One particular aspect of the website that we wanted to make sure was implemented successfully was the Photo Gallery. The Photo Gallery on Eppes Essen's website showcases a variety of food items that their establishment sells. When you look at a restaurant menu the description, while helpful, doesn't really give you the full picture. You're not really sure what you're getting or how much of it you're getting. That's what the photo gallery seeks to solve. We can showcase to any visitors the kinds of food they will be receiving, as well as the portions. This is important for restaurants, especially if they have foods with generous portions as Eppes Essen does. This knowledge will not only assist customers in choosing what to eat, but it also helps Eppes Essen by showing potential new customers exactly what they serve. We wanted to ensure that the food was the focal point when building their new site. Their previous website didn't showcase enough of their famous Sloppy Joe sandwiches. Their previous site also consisted only of one (1) page. This is problematic for search engines such as Google, Bing, Yahoo, AOL, etc. Search engines give higher rankings to sites that contain multiple pages and great amounts of content to populate them. We made sure that Eppes Essen's new website solves this issue. To visit Eppes Essen's newly launched website use this link here: https://www.eppesessen.com/

If you have a business or organization located in the Essex County, NJ area and wish to get assistance with the creation of a new website or redeveloping an existing website, then, Techdesigno in West Orange, NJ is here to help. The Techdesigno Team is located in West Orange, NJ, and is available to evaluate and discuss your new website or existing website needs. Contact them by calling 973-736-7973 or via email. Click below to schedule an appointment to discuss your specific new website or existing website needs for the Essex County, NJ area.
Click Here to Get a New Website or Redevelop an Existing Website for your Essex County, NJ Business