A New South Orange, NJ Start-Up Business Owner Needed A Fast E-Commerce Website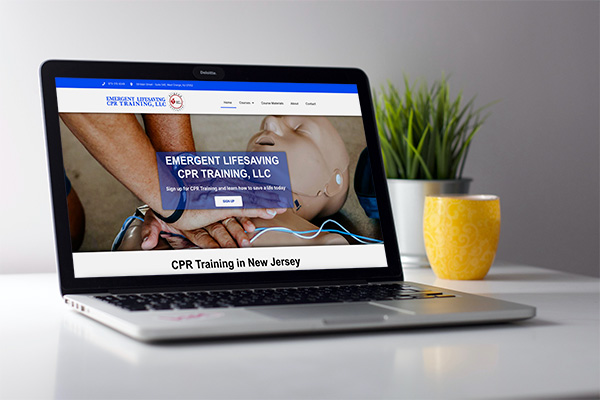 We just recently launched a new website for one of our newest clients. This particular client needed a website in order to be able to run his business. He needed to show proof to his prospects that he indeed had a legitimate business. He called to schedule an appointment with us at our office in West Orange, NJ located in Essex County, NJ. We meet face-to-face to discuss his website requirements and discussed the best website solutions. During our meeting, the client told us, "I needed to have a website so that when a potential company or person asked what is my website address, I could immediately feel confident in giving them a professional-looking website that functioned to accept online payments, as well. He also said he wanted them to come to visit and conduct business with my CPR training company." This was the client's issues. He had a business, however, he needed a website not only to show potential clients, but he also needed a place where individuals could sign up for his classes and transact payments using credit cards. Here's where we come in. We assessed his concerns, researched possible website technologies, and delivered the best solution possible.
The best solution the Techdesigno Team determined for his particular situation was quite helpful for his online business to succeed and solved multiple website concerns and online marketing goals. The website development and solution delivered the following benefits to the client:
1. A Cost-Effective Website Solution
One of the issues the client had was one of budgetary concern. He needed a website with the functionality to be able to schedule courses with customers, accept payments, and also have the functionality to implement add-on products to his courses. Building all of these functionalities into the website from scratch would have cost a tremendous amount of money due to the time and labor it would take to install, integrate, customize, test, and finalize each and every aspect of these website solutions and systems. However, we found a beneficial alternative to help the client. We found a cost-effective, ready-made, off-the-shelf software that could tackle all of these issues and functions without breaking the bank.
2. Off-The-Shelf Website Software
Off-the-shelf software can be a cost-effective solution when it comes to developing an online business and website. The reason for that is that having systems in place that were designed specifically for a certain functionality can help reduce development time, resulting in lower labor costs. Our client wanted an online business and website where a web visitor could schedule a course and have the option to purchase add-ons to that course. He also wanted a calendar built into the User-Interface of the website which would allow visitors to not only have an easier time navigating but also to help them select the best day and time that is displayed. This would make it easy to see all of the classes happening within a certain month, at a glance. Creating complex systems takes time. It also could be very difficult for the client to use depending on how it is integrated and developed. That is why Off-The-Shelf software can be a great website solution and deliver a beneficial online experience for customers. The user interface has already been set up to be a user-friendly experience for the visitor and also user-friendly for the business manager.
3. Quick, Efficient, & Effective Website Setup
Since this software is ready-made, the website implementation & integration will be quick, efficient, and effective. In the case of our client, this software benefits him by saving time and money. Due to the fact that all of the website functionality is already in place and ready to use. This means less time developing, and more time customizing and using the website to conduct online business, which goes into the next benefit gained from our website solution, by our website client.
4. Ability to Manage Online Classroom Appointments on the Website
Our client specifically requested the ability to manage the classroom courses on his own. He also wanted to be able to make changes to the website's content on his own. These were some of the key aspects that went into developing the website. We wanted to make sure it was as simple as possible to do this so we used plugins and software that were easy to make changes with. Part of our development philosophy is making the client's life easier. We understand that clients do not have a lot of time to waste learning the ins and outs of updating their own website, so when they requested access to make changes on their own, we wanted to make sure they have an easy time doing so. We also offered training instructions on how to update any website developed by us to any client who wishes to learn. This ensures that our clients can make successful updates without becoming frustrated or bothered by a long website development process.
If you have a business or organization located in the Essex County, NJ area and wish to get assistance with the creation of a new e-commerce website or existing e-commerce website, then, Techdesigno in West Orange, NJ is here to help. The Techdesigno Team is located in West Orange, NJ, and is available to evaluate and discuss your new e-commerce website or existing e-commerce website needs. Contact them by calling 973-736-7973 or via email. Click below to schedule an appointment to discuss your specific new e-commerce website or existing e-commerce website needs for the Essex County, NJ area.
Click Here to Get a New E-Commerce Website for your Essex County, NJ Business