Ensuring Accessibility and ADA Compliance in Web Design: Empowering Essex County, NJ Users with Disabilities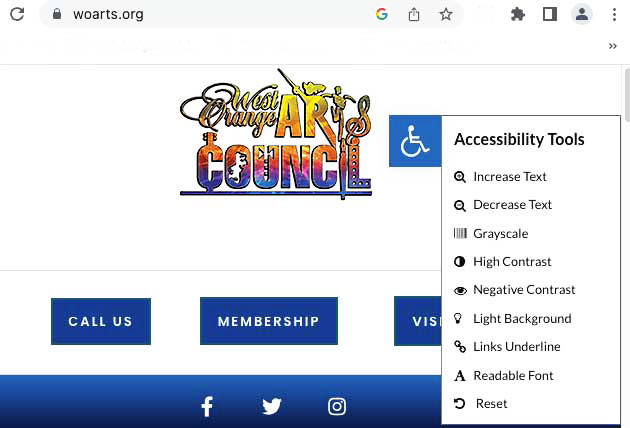 In today's digital world, the internet plays a key role in our everyday lives, granting us access to the information we need in the blink of an eye. This same privilege doesn't always hold for Americans with disabilities. Websites without proper compliance to the requirements of the Americans with Disabilities Act (ADA) may subconsciously be contributing to the discrimination against this subset of the population and be held liable. This article will delve into the importance and benefits of accessibility in web-design for organizations and businesses in Essex County, NJ.
1. Inclusivity for all Website Users
Inclusivity for all users is an obligation web designers in Essex County, NJ should abide by when crafting their websites. Integrating accessible design components helps those with disabilities, such as visual impairments, hearing impairments, motor disabilities, cognitive disabilities and neurological disorders access the web in a form that is properly tailored to their unique needs. Accessibility empowers those with disabilities to comprehend and navigate digital content effectively.
2. Legal and Ethical Obligations for Website Owners
Businesses and organizations in Essex County, NJ have the ethical and legal responsibility to design websites with accessibility in mind to serve legal requirements such as the Americans with Disabilities Act (ADA). The ADA was enacted in 1990 to prohibit discrimination against individuals with disabilities and to promote their full participation in all facets of life. Title III of the ADA emphasizes that businesses must provide equal access to goods and services to accommodate the public. While the ADA was enacted before widespread web use, this has been interpreted by courts to include Essex County, NJ websites as places of public accommodation.
3. Search Engine Optimization (SEO) for Websites
People and businesses in Essex County, NJ who incorporate accessibility features into their website may also be implementing good SEO practices all at once. This can include descriptive alt text, clear headings, and easy-to-read content, which will work to improve your search engine rankings as Google prioritizes websites that promote user satisfaction, usability interface, and user experience. If you want to increase organic traffic to your website, start by designing your site to be accessible for all users.
4. Increased Reach with Effective Web Development
Taking measures to promote accessibility on your website will enhance your market penetration by capturing a larger portion of the population in Essex County, NJ. According to World Bank, approximately 15% of adults live with a particular type of disability. By appealing to this relevant demographic, organizations and businesses in Essex County, NJ will increase their market share by opening their site up to a new customer base who may have previously been excluded from using their site. They are differentiating themselves from competitors who are not taking the proper steps to remove barriers that prevent those with disabilities from accessing their website.
5. Positive Brand Image for your Organization's Website
Designing a website that is aligned with the requirements of the ADA positions your business or organization as socially responsible and customer centric. A positive reputation is crucial in business to build customer trust and loyalty. Being ADA-compliant shows people that you are dedicated to ensuring everybody has access to information and services without barriers. Building a positive brand reputation translates to success in business because you are now more reliable to potential customers, and they will be more likely to engage in business with you.
7. Website Design and Usability for Everyone
It is not only those with disabilities that benefit from an accessible web design. Accessibility features, like video transcripts and captions can benefit those in a noisy environment for instance. In addition, clear and concise content, relevant headings, hyperlinks, or contrast between background and text can promote a seamless web experience for all. In other words, the majority population without a disability will not be discouraged by your website design, as they can benefit from accessibility features as well.
Accessibility in web design can go a long way with the right web designers in Essex County, NJ while promoting a more equitable society. Individuals with disabilities are often rendered invisible and cannot enjoy the simple pleasures able-bodied people are accustomed to. When people think of the word "accessible," the first thing that may come to mind is architecture, like ramps for wheelchair users. However, accessibility is much greater than architectural accommodations in today's digital world. To promote true inclusion, both the physical and online world must be made accessible. Businesses and organizations should engage in ADA and accessibility practices for their website to promote inclusivity, comply with legal obligations, enhance search engine optimization (SEO), increase reach, build a positive brand image, and foster usability for all web browsers including all website users in Essex County, NJ.

"ADA compliance is of great importance to me as it reflects our commitment to providing inclusivity and accessibility to all users on the web," said John Mitrano, Owner, and Founder of Techdesigno, a digital design and marketing agency located in West Orange, NJ. "Fortunately, when we were looking to achieve ADA compliance, we have discovered a number of very easy to implement and reasonable cost solutions that do not create a financial or technical barrier for our customer," Mitrano said.
Businesses and organizations who are seeking web designers in the Essex County, NJ area and have concerns about their website's ability to meet ADA requirements can look to Techdesigno for help. The team of experts specializes in web design and development and can work closely with your organization or business to implement the necessary design elements to meet ADA standards. Contact them by calling 973-736-7973 or via email. Click below to schedule an appointment with Techdesigno to transform your website to be fully accessible and inclusive!
Click Here to explore getting an ADA compliant website for your Essex County, NJ Business