Details
Get Graphic Design at Techdesigno in Millburn, Livingston, & Essex County, NJ Area
What is graphic design? Well, graphic design is an art form with a huge purpose because of the branding aspect that is crucial for a company's image. This involves a creative and systematic plan to solve a problem or help to achieve a certain objective, with the use of images, symbols or even words. It's also a visual communication and the aesthetic expression of concepts and ideas that use various graphic elements and tools.
Here are 3 purposes for graphic design:
1. Marketing & advertising graphic design
• Doing postcards and flyers
• Magazines and newspapers
• Billboards, posters and banners
• Infographics
• Email marketing templates
• PowerPoint presentations
• Restaurant Menus
2. Doing interface graphic design
• Using web page design
• Theme design that uses (Wordpress, Shopify, etc.)
• Mobile Web Apps
• Progressive Web Apps (PWA)

Read more: Get Your Graphic Design at Techdesigno in Millburn, Livingston, & Essex County, NJ
Details
Techdesigno Presents at Staples in West Orange, NJ to Discuss Online Marketing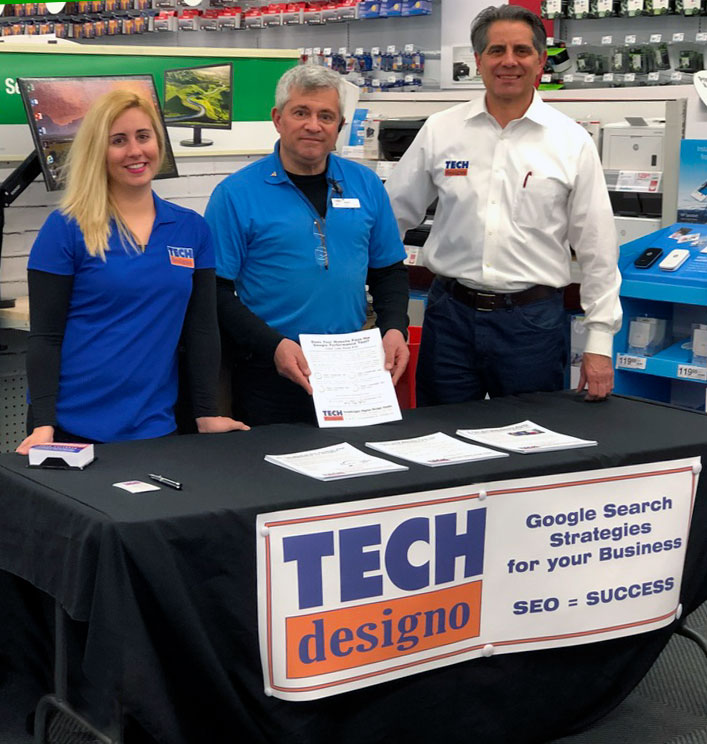 Techdesigno has partnered with Staples in West Orange, NJ and discusses with local business people a variety of questions about how websites work. Techdesigno in West Orange, NJ set up a presentation table at their store to better serve their customers and answer any questions that may befuddle people about the use of the Internet for Business purposes. Techdesigno in West Orange, NJ was very excited to share their company vision with consumers. Staples sells office supplies, advertising products, and business services. Staples and Techdesigno connected with business customers on a range of online marketing services near the copy center location of the store.
Techdesigno spoke with customers about the services their company provides. They discussed:
Web Design
SEO and SEM
Social Media
Marketing
Videography
Photography
Techdesigno in West Orange, NJ specializes in website design and online marketing services for businesses. Throughout the Staples event in West Orange, NJ, the Techdesigno team discussed with customers the importance of a Google Performance Test. A Google Performance test displays how quickly and efficiently your website is running to ensure a great visitor experience. Techdesigno in West Orange, NJ also presented to customers the importance of high Google rankings and how they can assist companies with driving traffic to their websites.
Take a look at what a client of ours by the name of Mark K. had to say after Techdesigno in West Orange, NJ developed his website and implemented targeted marketing strategies.
Read more: Techdesigno presents locally at Staples in West Orange, NJ
Details
Techdesigno Can Help Rebuild or Redesign Your Website and Make It Better!
Do you have a website that needs updating? Does it need to be upgraded and rebuilt? If your website was built in the late 1980s and is neon green, then, it may be time to rebuild your website.
No one wants to visit a website that looks old and has not been maintained. A company's website is a reflection on their business. If your website looks outdated, chances are that your customers are not going to want to do business with you. There are several reasons why it's important for your website to be updated. So, why rebuild or update your existing website? Take a look at a few reasons below:
• To show your website visitors that your business is still active
• To ensure it is Mobile-Friendly
• To provide freshly updated content for SEO
• To display current or recent promotions
Read more: Techdesigno Can Help Rebuild or Redesign Your Website and Make It Better!
Details
Get a FREE Stunning WIX.com Website from Techdesigno.com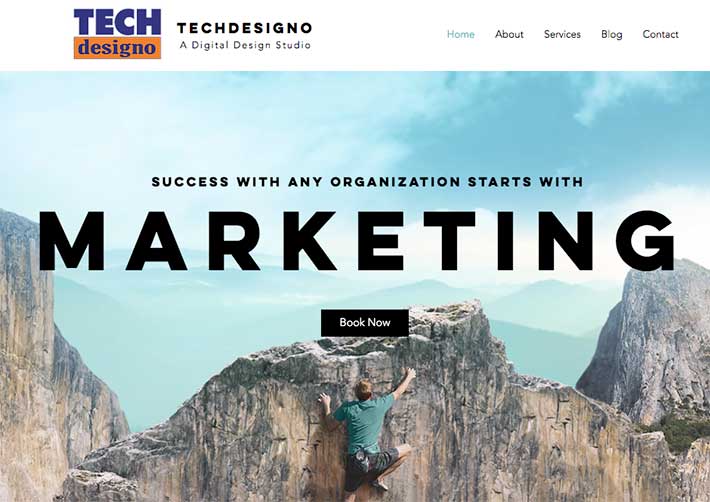 Most of us pretty much know that the cost of having a website built by a professional website developer could be quite expensive. However, If you are a small business and have a tight budget, WIX and Techdesigno will build your company a FREE or LOW-COST stunning website in no time. That's one of the biggest advantages of the WIX website development platform.
There are two ways you can get a FREE stunning WIX website. One way is by building the website yourself using the WIX "drag and drop" editor. Another way to get a FREE stunning WIX website is by having your professional website developed by Techdesigno. Techdesigno will build a custom Wix website and design it just for you and your business. Techdesigno has both FREE and inexpensive websites for small business owners or home-based businesses.
So, how do these various FREE or low-cost websites work? Let's first discuss the advantageous of a WIX website, the result is always a stunning website when done right!
Read more: Get a FREE Stunning WIX.COM Website from Techdesigno.com
Details
Our Biggest Client is Also Our Favorite Client. Meet Kamau, a 4-Year Old Giraffe
Our biggest client is also our favorite client. Meet Kamau, a 4-year old young male giraffe living at the Zoological Society of NJ (a.k.a. Turtle Back Zoo) located in the Township of West Orange in Essex County, NJ. We're happy to have served him for the installation and setup of a digital informational display system installed at the entrance gate of the zoo. He's quite tall. Standing at 15 feet high. He was born with a birth height of 6 feet.
Techdesigno has over ten years of experience helping businesses with their online website presence. Our content management techniques have smoothly translated into digital signage rollouts. We have a network of technicians, marketers, writers and graphic designers who can assist you with your project.
Research has proven that place-based media, narrowcasting, electronic billboards, are all fancy words for visual messaging that is delivered to your customers. When working with the creative team at Techdesigno, we can help you design an effective message delivered to the right audience. You spent the money, now make it work for you, with content creation that you design and approve.
Read more: Our Biggest Client is Also Our Favorite Client. Meet Kamau, a 4-Year Old Young Giraffe