Details
Techdesigno in West Orange, NJ Generates Website Design and Development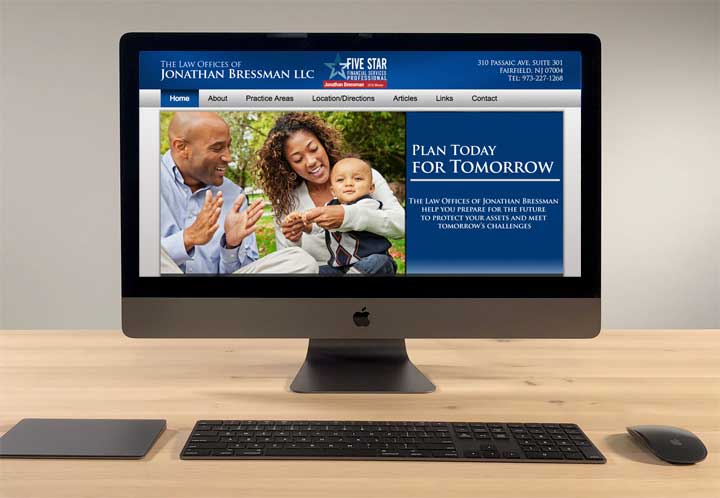 Techdesigno in West Orange, NJ is a Website Design Company that is truly focused on satisfying the website and online goals of our clients. We know that a professional designed website is just the beginning. A website also must function and even perform properly and consistently. They even provide their clients with domain name registration, web hosting, web design (design a custom website), Flash animation, SSL Certificates, eCommerce (for online selling), email accounts, Online Web Marketing, Search Engine Optimization, and Custom Logo Design. We here at Techdesigno take great pride in providing these services to our clients to help make their website.
Our Web Design Service include:
• Web Hosting & Technical Support
• Website design and Troubleshooting
• Flash Animation, XML, PHP, ASP
• Website Design & Development Training & Instruction
• eCommerce and Online Selling
• Search Engine Optimization (SEO)
• Custom Logo Design & Development
• Email Account Setup & Service
Read more: Techdesigno in West Orange, NJ Generates Website Design and Development
Details
Techdesigno in West Orange, NJ Registers Domain Names for Businesses

What is a domain name registration? Domain registration is the process of registering a domain name, which identifies one or more IP addresses with a name that is easier to remember. It uses a Uniform Resource Locator (URL) to identify particular web pages giving a common string of words to a numerical IP address. A domain name points to a specific web address that represents one or more webpages for an organization or company. A domain name is a unique, one of a kind address. It's a very important asset to any company or organization. It represents your online identity. A domain name can attract additional business by building brand awareness and increasing your online presence. It's important to include key words in your domain to provide users and search engines with more information about the page allowing Google to recognize these key words as being relevant to your business. A domain name can cost thirty-five dollars or less per year.
Don't lose your domain name! If you miss your renewal and let your domain pass the redemption period, it will drop from the registry or become available to anyone else that would like to register your name. Domainers and cybersquatters intentionally purchase domains with the intention of flipping them for a profit. Don't let this happen to you! We inform clients of their pending expiration date to ensure they renew their domain. Mark the expiration date on your calendar!
Read more: Techdesigno in West Orange, NJ Registers Domain Names for Businesses
Details
Techdesigno in West Orange, NJ Donates to the Organization called Best Buddies International
Techdesigno in West Orange, NJ is thrilled to announce their support to the charity organization called Best Buddies International. Techdesigno, serving Essex County, NJ, donated to this special cause to support the endeavors of the organization.
What is Best Buddies International you may ask? Well, it's the world largest organization that is totally dedicated to ending the social, physical and economic isolation of the 200 million people that are with intellectual and developmental disabilities (IDD). The Best Buddies programs are set on three key mission pillars: One-to-One Friendships, Integrated Employment and Leadership Development.
The Best Buddies Program assists people with IDD to form meaningful friendships with their peers, encourage self- advocacy and supports feeling valued in society. The program helps with job placement, independent living, public speaking and communication skills.
Read more: Techdesigno in West Orange, NJ Donates to the Organization called Best Buddies International
Details
Get Your Joomla! CMS Website at Techdesigno in West Orange, NJ
Techdesigno in West Orange, NJ wants to start out by saying how we are a huge JOOMLA! fan. Well, if you don't know what Joomla! is, here is a good brief description taken from JOOMLA! itself.
"Joomla is an awarding-winning content management system (CMS), which enables you to build Web sites and powerful online applications. The many aspects, including its ease-of-use and extensibility have made Joomla one of the most popular web site software available. But, best of all, Joomla is an open source solution that is freely available to everyone."
Now if we lost you at CMS, read on:
"A content management system is a software that helps keep track of every piece of content on your Web site, much like your local public library that keeps track of books and stores them. The content can be simple text, photos, music, video, documents, or even just about anything you can think of. The major advantage of using a CMS is that it requires almost no technical skill or knowledge to manage. So, since the CMS manages all your content, you don't have to."
Read more: Get Your Joomla! CMS Website at Techdesigno in West Orange, NJ
Details
Good News! Paperless Solutions launches their new mobile-friendly website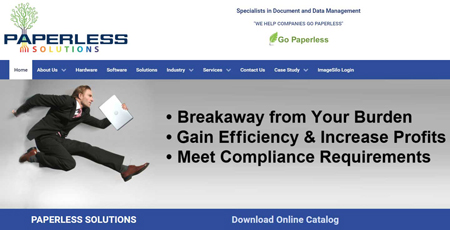 Congratulations to our client, Paperless Solutions LLC. They now have a new mobile-friendly and responsive designed website. Techdesigno has redesigned and redeveloped their new CMS responsive website. This new website design reflects their new brand essence. Our team optimized the written page content and their overall content strategy to offer more information about the business. Techdesigno's graphics designers worked on specific website images to communicate or explain ideas visually by using various graphic elements and tools. The web designers worked on web pages that are designed with a focus on simplicity, so that no extraneous information and functionality that might distract or confuse visitors. The Usability and User Experience, is very important to Techdesigno for making this website simple, user-friendly and easy to use. Our web developers know that customers' online behavior and provides insight into what works and what doesn't.
Read more: Good News! Paperless Solutions launches their new mobile-friendly website